WERBUNG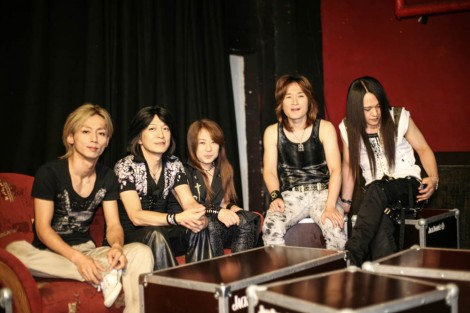 Ohanami: Hello Guys! This is your very first time in Europe ever and also, this is your first concert on this tour. Fans here have been waiting for you a long time. What are your feelings regarding to the tour, what do you expect of the local fans and what is the greatest difference between Japanese and European fans you can think of?
Syu: Actually we are a band very much influenced by european music so I would say we were also really looking forward to making an european tour.
Ohanami: Bands are always excited to play concerts in Germany. Do you like Germany?
Syu: Ja ! Scorpions ! Michael Schenker !
Yuhki: It's my 3rd time in germany today.
Ohanami: Now some questions regarding your music: Can you describe your genre of music in one sentence?
Syu: In our origin we are very influenced by european music, we do symphonic metal, classic metal, progressive metal and so the influence is the very origin of our band. On the other side, we mixed these roots with the very strong japanese facets, which can be resumed with the word "wabi-sabi" which is like kind of very emotional music, so I think in our music are these emotional songs which can create a kind of empathy.
Ohanami: Which of your songs do each of you like the most?
Syu: It's very hard to choose one song, but a long lasting hit is "Angel of Salvation", so I would say this is the song which is most representing our band.
Ohanami: Can you think of a band or an artist that inspired you with your work, and does this inspration display in your play style or music?
Syu: It's very difficult to list them all, but to list some, it's like X Japan, Dream Theater, Gary Moore, Michael Schenker, I mean all progressive- and symphonic metal guitarists have influenced my work pretty much. Yuhki: In my case it's Deep Purple and progressive metal in general but it's hard to make a list.
Ohanami: Leda, who was the Bass-player on your "One for All – All for One" Album, rocked Germany 2 weeks ago with the new sensation "BABYMETAL". What do you think of the concept of this Band and do you think they can make it?
*all of them were talking in wispers with each other*
Syu: Fuck them!
*they all burst out into laughter*
Syu: I think it's just like the way they should do it, it's just their style so I think it's okay.
(We had to upload this passage of our interview :))
Ohanami: When did you start learning your instrument and did you ever think of becoming a big deal in the japanese and worldwide music industry?
Syu: As far as i'm concerned, I started guitar when I was 13 and there was nothing more than guitar.
Sho: I Started thinking of becoming a professional at the age of 18 and I started my activity as a solo artist when I was around 25. Now i'm 47, so that means I'm in the scene more than 20 years and I joined Galneryus 5 years ago. At the beginning I was making some metal as an amateur in an amateur-band but then I joined Galneryus and I've seen the success and I would say that I don't know if I expected to be so successful, but I'm very happy it happened.
Yuhki: I started at 13 with the guitar but then I realized I wasn't good at all at that so at home there was a piano and I started learning it by myself and that's my piano became my instrument. And it was one of my dreams to come to Europe as a band and I think today, my dream has come true.
Junichi: At the age of 13 I listened to heavy metal for the first time and just fell in love with the genre and at 14 I started playing the drums. Then I decided to become a professional musician and I joined the music school at 18 and since then, I'm always playing as a professional musician until today.
Taka: Everybody here started at the age of 13, actually I started playing the Bass at 15 and then I was studying abroad, so I was not really aware becoming a professional musician but then it started and I was just going on.
Ohanami: Now it's time to send some words out to your German fans, before you rock cologne tonight !
Syu: At first, I'm really surprised to know that we have fans here in Germany and I'm very pleased with it. We'd really like to play at the Wacken festival and so I hope that we'll also have other locations in Germany but especially to be on the Wacken-stage very soon
Ohanami: Thank you so much for your time. We wish you the very best for your future and especially for your gig tonight!
Copyright: Ohanami.de
Ähnliche Beiträge