Vor seiner großen Rundreise durch Europa haben wir dem Supergitarristen HIZAKI – bekannt aus den Bands VERSAILLES und JUPITER – ein paar Fragen gestellt. HIZAKI wird neben seinem Konzert im Kölner MTC auch auf der diesjährigen DoKomi ein Gastspiel geben und auch während des Japantages an einer Tea-Party in der Düsseldorfer Bäckerei "Bakery My Heart" teilnehmen.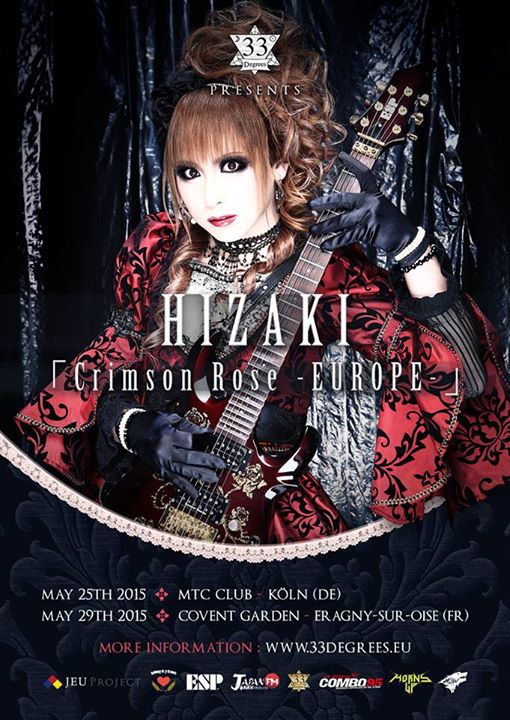 Ohanami: This your first solo tour in europe, what are your expectations regarding the past Versailles and Jupiter concerts?
HIZAKI: Hope, they will be beautiful lives!
Ohanami: Can you tell the difference between Versailles' music and Jupiter's music? Would you say there are big differences especially when it comes to the vocal parts?
HIZAKI: Sure there are big differences. Jupiter's songs are more metal sound based and I think our songs now are full of varieties in terms of music genre.
Ohanami: In early march, KAMIJO rocked cologne with his solo project including musicians like MASASHI or MEKU from GALEYD. Who can we expect for the line up for your shows?
HIZAKI: There are no support members, I will be on my own on the stage.
Ohanami: How would you describe your kind of music in one sentence?
HIZAKI: LOVE and BEAUTY
Ohanami: Can you think of a band or an artist that inspired you with your work, and does this inspration display in your play style or music?
HIZAKI: Classical music have influenced me a lot.
The band influenced me to become a band man is X Japan.
But actually, every songs I've listened and fell inspiring my music.
Ohanami: When did you start learning to play the guitar and did you ever think of becoming a big deal in the Japanese music industry and oversea?
HIZAKI: I have started playing guitar since 12 years old.
And I have thought to become professional musician when I graduated High School at the age of 18.
Ohanami: How do you prepare for a tour except doing rehearsals? Like do you have any special rituals?
HIZAKI: Just before I leave Japan, I will go to a Japanese shrine (Jinjya) to pray the success of this EU Tour!
Ohanami: On your solo tour you are going to play Songs from e.g. Versailles or HIZAKI Grace Project. Are there specific Songs you are really looking forward to play?
HIZAKI: Race Wish
Ohanami: Which of your Songs do you think describes the music you play best?
HIZAKI: Church Candle
Ohanami: What does Visual Kei mean to you?
HIZAKI: It's an Art.
Ohanami: Thanks for taking the time to answer our questions. Best wishes for the future, good luck and Rock on !
HIZAKI: Thank you! Let's have great time in EU together!!
Wenn ihr noch kein Ticket für das Konzert am Montag habt, dann holt euch noch schnell eins. Für 25 Euro seid ihr dabei. Tickets gibt's hier.
Related